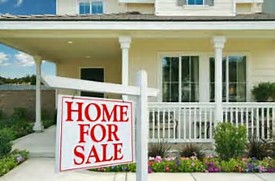 Home Buying 101

Home buying should be a fun experience. It should be filled with excitement and anticipation of moving in to a new home. Here are some tips to help make the experience a pleasant one. (Buying in today's Market – Help for Home Buyers)

1) Find a Real Estate Agent who you can connect with. Home buying is not only a big financial commitment, but also an emotional one. It is important that you are working with an agent you feel is highly skilled and who meshes well with your personality. You will find that the process involves a lot of interaction between you and the agent. it is important that you feel comfortable sharing and talking to the agent you work with.

2) Keep in mind that there is no "perfect time to buy", just as there is no "perfect time to sell". If you find a house you like and feel good about, don't second guess yourself. It is not uncommon to experience some fear and uncertainty when you are making such a large commitment, but if you wait or debate too long in making a decision, you could lose out on the home of your dreams. A nice home at a good price will usually not stay on the market long.

3) Don't ask for too many opinions from others. It is natural to want reassurance that you are making the right decision, but too many ideas from too many people can cloud your thinking and make it harder to make a decision. Focus on what you and your family need, not what other people think. You are the ones who will be living in the home.

4) Accept that no house is ever perfect. If the house is in the right location, the price works for you, and the overall design of the home fits your needs, that is all you should be concerned with. There is no such thing as a perfect house.There are always going to be things that may need attention or a room might be a little small. Make a list of the things that are most important to you and your family and focus on those things when you are looking at homes. Minor flaws ultimately will not affect the livability of the home once you are living in your new home.

5) Don't think of the buying process as a "must win" scenario. It isn't a race to the finish line or a competition. It is about finding a place for you and your family to live comfortably while enabling the seller to move on with their lives.Negotiation is a process. It is about a little give and a little take and making both parties come out a winner.

6) Plan Ahead. Don't wait until you find the house you want before talking to a lender. Take the time to get a pre-approval so you know your price point and what you can comfortably afford. Factor in the cost of insurance, repairs and upkeep, before you start your search. If you are relocating, determine what school district you want to be in and the proximity to amenities that are important to you and your family. That way when you start your search and find the right home, you can present a clean offer to the sellers with as few contingencies as possible.

7) Accept that a little buyer's remorse is inevitable but it will pass. Buying a home, especially if it is the first time, is a big financial commitment. It also yields big benefits. Don't lose sight of the original goal, owning your own home. Focus on the things you love about the home and how much you will enjoy living there.

Buying a home is the first step in building a life. First choose a home because you love it and then focus on the goal of acquiring it. Long term the home will be a good investment. It will appreciate over time. In the interim, it will provide you and your family with a place to call Home.

Now, let's get started on the process. Call me and let's talk about your plans. I can help you find the right home, at the right price, and at terms and conditions that fit your budget. Call today. Thank you for your interest!
Sandra Paulow, Associate Broker, GRI, REALTOR®
From "Sign Up" to "Sign Down"
EXPERIENCE makes the Difference.
SUCCESS WITH SANDRA!

928.242.0300 Call or Text
sb.paulow@frontier.com