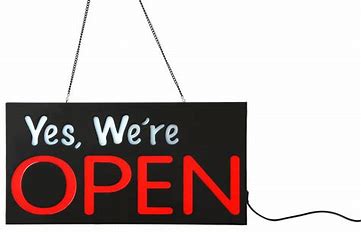 We are Open for Business!
The White Mountains of Arizona Welcomes You.
It has been a long time coming but we are once again open for business in the White Mountains. If this past Holiday Weekend was any indication, it is going to be a very busy summer. Having lived here for 18 years, I have learned if you need anything at the grocery store, go a couple of days before or a couple of days after the Holiday. Otherwise you can't get in the door. Not complaining mind you, our summer visitors are always welcome and contribute a great deal to our local economy.
Real Estate has been very busy too. Despite all the predictions of doom and gloom, there are a lot of people buying homes in our area. Guess the volatility of the Stock Market has people buying property. Land never goes away. The value may fluctuate with economic conditions, but it is always there providing us with an investment that never goes away, and a roof over our heads, a place to feel safe, even in difficult times.
The past few months have been very challenging for everyone. Staying home, feeling frightened of an unseen threat has made us all a bit wary. Fortunately the predictions have proven that the virus while dangerous and caused a lot of heartache for many, is lessening day by day and allowing people to get back to their lives. Certainly we need to exercise common sense and not put ourselves in dangerous situations, but we are seeing improvement and the danger of the beast is lessening every day.
Here on our mountain we are glad to be back. People are returning to work and hopefully our economy will recover sooner rather than later. Come on up to the mountains, enjoy our cool temps and fresh air. If you have been thinking about buying a home in our area, keep me in mind. I have the experience you need to find you the right home, at the right price, and at terms and conditions to fit your needs. I am here to help so do not hesitate to contact me.
Thanks for reading, until next time….
Sandra Paulow, Associate Broker, GRI, REALTOR®
928.242.0300
EXPERIENCE makes the Difference.
SUCCESS WITH SANDRA!