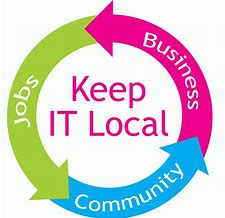 Keep it Local!
You have all heard the term "Keep it Local" so when you are ready to choose a Real Estate Agent to help you, keep it local. Why is this important in Real Estate? For the same reason the local Chambers of Commerce and Business Development Leaders ask this of you. It supports the local economy.
Certainly you will find the Big Brand names in a local market. What you may not realize is that much of the fee collected at the end of a transaction goes to a Corporate office away from your local market. The agents may live and work in the area, but their managers and brokers do not. When you use a local agent and business, that money stays at home. If the managers and brokers are local residents, even though they may get a portion of every fee paid to list and sell your property, that portion still stays in the local economy. That in turn supports other local businesses. Instead of paying for a Corporate CEO to take a world tour, that money may pay for a child to join little league or take ballet lessons.
As a long time agent I have had experience with both the Big Brand companies and smaller local brokerages. I prefer the small, local office. The friendlier environment and attention to personalized service is what the Real Estate Business is about. The company name on the sign is not nearly as important as the service the agent and the brokerage can provide their clients. Localized service and expertise benefits everyone involved in a transaction.
Using a local resident agent assures you that the agent is familiar with the area and issues that could be problematic in the area. Every area is unique and may have challenges that a non-local would not be aware of. When you are making one of the largest financial decisions of your life, wouldn't you want to be sure that the agent representing your interests is familiar with those local concerns?
My company, Aspen Properties, Inc., is one of the longest continually operating Real Estate offices in the White Mountain market. We have been through the best and the worst of times and we are still here. The same cannot be said for many of the Brand offices who closed up and pulled out of the local market when times got tough. We are locally owned and operated, and we are ready to help you with your Real Estate needs in the White Mountains of Arizona. Call today.
Sandra Paulow, Associate Broker, GRI, REALTOR®
928.242.0300
EXPERIENCE makes the Difference!
SUCCESS WITH SANDRA!