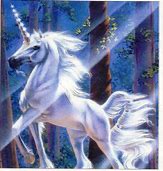 Unicorn in a Haystack
I know, strange title, right? I intentionally mixed up a couple of sayings for my topic today. What I am referring to is a house search. Starting a house search takes planning and more importantly, being realistic in expectations. In today's market with inventory strained and more buyers than houses, it is unlikely you are going to find that Unicorn in a Haystack. Prices have steadily increased over the past few years and the days of the "deals" are behind us. There are few sellers who are strained with the strong economy and many refinanced at lower rates after the melt down, so they are not desperate to sell at a low price.
I understand buyer's frustrations in the current market, prices are higher than they would like, but market dictates prices, not sellers or real estate agents. Inventory has been tight for over two years and that creates a supply and demand scenario and can be a challenge, particularly for First Time buyers. Second home buyers can usually afford to pay the market price but because the motivation is different, they are not always willing to pay the higher prices. They have set a budget for the home purchase and are unwilling to exceed that goal. The reality for any buyer is that it may take longer to find the right home at the right price, and there is likely to be a lot of competition for that home. Delaying making a commitment when you find the right house may cost you the one home that was a good fit. Multiple offers or very quick offers on properties is pretty common in the current market conditions.
My best advice for buyers is to be realistic in your expectations, be prepared to make a move quickly when the right home surfaces, and don't be overly picky when it comes to inspections. Sellers know there is a demand for their home and if your offer doesn't work out for them, there is another around the corner. Don't be the buyer looking for the "Unicorn in a Haystack", because Unicorns are a fantasy and it is unlikely that the haystack is going to yield a lot of options for you.
If you are ready to buy or sell this year, please keep me in mind. I know the market and I know how to get from contract to the closing table and am eager to help you attain your real estate objectives.
Thanks for reading, until next time…….
Sandra Paulow, Associate Broker, GRI, REALTOR®
928.242.0300
EXPERIENCE makes the Difference.
SUCCESS WITH SANDRA!