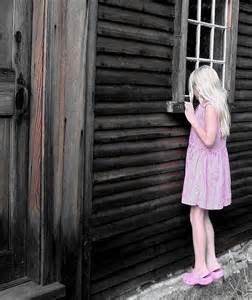 No Peeking!
"Oh Honey, Stop the Car, there is a real estate sign in that yard and the house looks adorable! Let's go peek in the windows!"
A Real Estate sign in a yard is not an invitation to trespass on someone's property. The people who own the property may want to sell the home, but that is not an open invitation to go on to the property and peek in the windows. You need to be accompanied by a Real Estate agent to gain access to the home. Entering a piece of property without permission is trespassing. Trespassing by any definition is illegal.
You might think, well no one is there, who will know? Maybe no one, but you don't know that house is vacant, it may only look that way. The White Mountains is a rural area and because of that, people are wary of strangers. Think of it this way, how would you feel if you were sitting at the table in our bathrobe & fuzzy slippers having your morning coffee, and you look up to see someone peeking in the window at you? That is what you risk when you enter a property illegally and peek in windows. Are you willing to risk arrest or injury going on the piece of property unaccompanied?
You need an agent who is working for you. If you see a property you want more information about, call your agent. They can make the necessary arrangements to get you in the door to view the property you are interested in. We live in a "Do It Yourself" world, but buying a property without the benefit of representation is not in your best interest. A buyer's agent can open those doors, help you find a lender, write the offer, get it presented and accepted, and then walk you through the very complex home buying process. The rules change every day and there is far more to the process than you may think.
When you are ready to buy, call me. I specialize in Buyer's Representation and have many years of experience behind me to help you with your purchase. I will serve as your guide and when the day of closing arrives, be the one to hand you the keys to your new home. I am ready to open doors for you all you have to do is call.
Sandra Paulow, Broker Associate, GRI, REALTOR®
928.242.0300
EXPERIENCE makes the Difference.
SUCCESS WITH SANDRA!