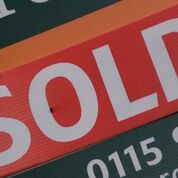 Now is not the time to Low-Ball an Offer!
The market is tight and buyers are learning to their disappointment, that now is not the time to low-ball an offer or wait too long when making a decision about making an offer. They are likely to find themselves without the house they wanted. Competition among buyers is tough because the inventory of homes is limited, particularly in certain price ranges. If a nice house hits the market buyers must be prepared to move quickly. It breaks my heart to have my buyers disappointed because they lost the home they really wanted because someone else got there first.
Here are a few tips to make the buying quicker and easier:
If you are going to need financing, get pre-qualified and have your pre-qualification with you when you start out to look at homes. This will help to narrow your choices to only homes that are within your price range and make it easier and quicker to make that offer when you find the right home.
Eliminate any contingencies before you start looking. If you have a home to sell, sell it before you start looking. In a tight market it is unlikely that a seller is going to take their home off the market for the time it takes your home to sell.
Make a list of the "must haves" and be ready to move forward when the right home surfaces. If you "must have" something, there are likely to be several other buyers looking for the same thing.
Eliminate the "I want" from your vocabulary. What you want may not be available, but what you "must have" might be. We all want a million dollar home on a beer budget, but be realistic. It is unlikely that you are going to get everything you want so be ready to accept the "must haves" as opposed to the "I wants".
Do not try and low-ball the offer. Be reasonable in your expectations. Your agent can guide you as to whether the home is priced appropriately in the current market conditions. If it is, be reasonable with your offer. In a tight inventory market there are no "deals" to be had. Sellers know their homes are valuable to the right buyer and they also know that if one offer is unacceptable, another one that might be will be along shortly.
Once your offer is accepted, do not go in to your home inspection period anticipating a punch list of repairs for the seller. Most sellers will be reasonable about repairs if they present a health or safety concern. There is a big difference between a repair and an upgrade. Repairs are things that are not functioning as intended. Upgrades are usually cosmetic in nature and are not the seller's responsibility.
When markets favor the seller as ours have for almost two years, buyers need to accept the reality that they are not the ones in the driver's seat. They may wish for the good ol' days when buyers had control of the market, but in the present market, that is not the case.
That said, a buyer can still find a good value on a home if they are prepared to move when the right home surfaces. They cannot afford to wait and see if the price comes down because it is likely to be sold before that happens. They must be prepared to make a decision and move quickly. Keep in mind that if financing is involved, the appraiser is the one who will ultimately determine if the home is priced appropriately. In many cases the appraisal will stick with the house for up to six months so it is to the seller's advantage to meet the appraised value. They may be disappointed if the price comes in lower that the accepted offer, but Condition, Location, and Market Conditions determine value, not wishful thinking.
If you want more information about this topic or are curious about market conditions in the White Mountains of Arizona. Call me. I would be happy to assist you with your next home purchase.
Thanks for reading, until next time……
Sandra Paulow, Associate Broker, GRI, REALTOR® 928.242.0300
EXPERIENCE makes the Difference.
SUCCESS WITH SANDRA.