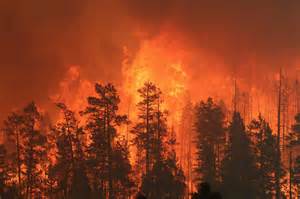 Welcome to the White Mountains!
Please be careful with fire.
As a community we welcome our summer visitors with open arms. Our local merchants and business people depend on the patronage of our visitors and appreciate their patronage.
For those who are coming up to camp and enjoy the fresh air and the sound of the wind in our pretty trees, we welcome you. A word of caution though, it has been an extremely dry winter and spring, and the fire danger is extreme in our area. Please monitor your campfires closely and do not leave them unattended for any reason. We have already had several wild fires in the area and campfires that have been left unattended have gotten outside their fire rings and spread. The words to remember are douse it, stir it, if it is still warm douse it again, stir, it and when it is cold to the touch it is out. It doesn't take much more than a light breeze to stir on spark in to a raging inferno.
Every year there are wildfires started in our area, often by carelessness, and the communities of Show Low, Pinetop, & Lakeside are always on edge with their ready bags packed because fires move quickly. It is only by the valiant efforts of the firefighters in our area that a serious crises are averted. I recently spoke to one of the forest officials who was on the Cedar fire a couple of years ago, he told me we were very close to being chased from our homes. It was a miracle we were saved from being forced from our homes again.
I have lived in the White Mountains since 2002 and was force from my home two months after we moved here because of the Rodeo-Chedeski fire that consumed over 500,000 acres of forest and many homes. The Wallow fire a few years later forced the communities of Springerville, Eagar, & Greer, to evacuate. Evacuating because of a fire is a harrowing experience and none of us has any desire to experience it again. We love our mountain as much as you do and we don't want to lose our beautiful forest or our homes dues to a forest fire.
Please, please be careful with fire. We have had enough Cedars, Wallows, & Rodeos to last us for all of eternity.
We all thank you in advance for your cooperation in this matter.
Sandra Paulow, Associate Broker, REALTOR®
928.242.0300