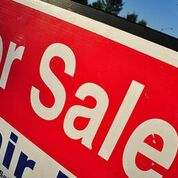 SHOULD I REMODEL OR IMPROVE TO SELL?
Have you wondered what the pay back might be if you do improvements before you put your home up for sale? Here are some tips and percentages that might help you with that decision.
As a general rule, Kitchen & Bathroom projects provide the best return. Buyers today are very style conscious too. Granite counters, updated fixtures & appliances, and wood flooring do make a difference. Be sure to do your research about other homes in your area before you dive in to a project. Be careful not to overbuild or over improve so you do not price yourself above similar properties in your area.
The type of project you do and how it fits in with other homes in the area can have a big influence. These trends change over time but you need to know what is "hot" today to make your remodeling and upgrading add value to your home. If you are doing the remodel for yourself than do what you like. If you are doing it for payback on a sale, go with the current trend. If you put your money in to the wrong type or style of improvement, you won't get your money back.
Something else to consider is if you can do some or all of the work yourself, you can save significantly on the cost. However what you do make sure you do correctly. Make sure to acquire necessary permits and that the work complies with current code requirements. If it is not done properly it will be called out during the Home Inspection. Outside contractors are more expensive, but it might be worth it to hire the work done so you can be sure it is done correctly.
Below is a list compiled from several published surveys on the payback potential for the most popular remodeling projects:
Kitchen remodeling – 90%
Add a bathroom – 90%
Bathroom remodeling – 80%
Install central heating – 90%
Install central air – 75%
Add a deck – 70%
Replace windows – 70%
Add a room – 55%
Build a pool – 45%
Finish a basement – 40%
If you are thinking of selling and are not sure if you should make improvements, give me a call. Often the things that will help sell your home are relatively inexpensive and will improve the marketability without costing a great deal. A coat of paint, a good cleaning, perhaps a little yard cleanup and improvements to the landscaping ay be all you need. Let me help you make the decision on what you can do to improve the marketability of your home.
The best advice in today's market is to Price it right and do what you need to do to help the home sell while minimizing your out of pocket costs. That is the key and I can help you with those questions. Give me a call and Let's Get started!
SANDRA PAULOW, ASSOCIATE BROKER, GRI, REALTOR®
(928) 242-0300
From "Sign Up" to "Sign Down"
EXPERIENCE makes the Difference.
SUCCESS WITH SANDRA!